Juggling Conventions
History
The first juggling conventions took place in 1943 in the US and in 1976 in Europe. At first, juggling conventions were meetings for professionals. Since then, conventions have been organized in Asia, Europe, and the Americas. They have become regular and essential meetings for hobbyists and performing artists all over the world. For the past 50 years, hobby juggling has increased dramatically – juggling conventions have played a crucial role in the development of juggling as a pastime.

Did you know ?
11 – That's the number of jugglers who attended the first European juggling convention! The record is Karlsruhe 2008 with more than 6000 jugglers!
More information about juggling conventions in France:
French Juggling Association
European Juggling Association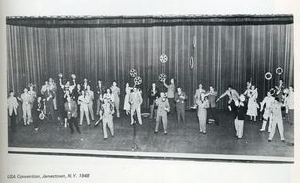 1st Convention US, 1948, Jamestown
Source : 4000 Years of Juggling, vol2, p313
S'amuser
During the great parade – an EJC tradition – jugglers march through the city streets to the amazement of its inhabitants. Juggling games are a friendly competition with events like "Five ball endurance" and "Club balance endurance." A convention's final moment is usually the "Big Toss Up" – where jugglers throw all of their props in the air, celebrating the joy of being together in a yearly meeting.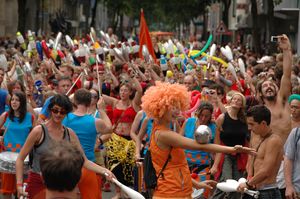 The Great Parade, Karlsruhe 2008
Source : Karlsruhe 2008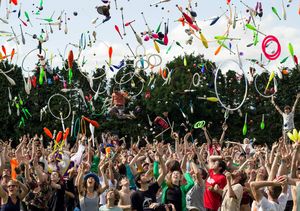 Toss'up ! 2015 - Bruneck
© Krista Palm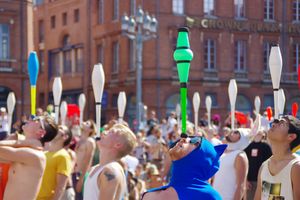 The Games: Club Balance endurance
Source: Toulouse 2013

Progresser
Throwing, re-starting. Throwing, re-starting. In the gym, jugglers practice all day and all night. Workshops are offered – for free – to everyone in attendance, with topics ranging from learning three balls to elite-level skills. Having so many skilled jugglers in one space creates an incredible energy – people often remark that you never juggle better than when you're at a convention.
Did you know?
Juggling conventions are organized by teams of volunteers – jugglers working on behalf of their juggling friends. It takes two to three years of intense work to organize the annual European Juggling Convention.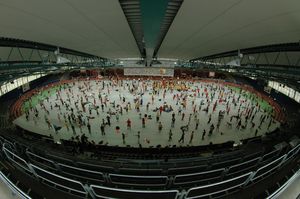 Gymnasium, main point in a convention
Source : Karlsruhe 2008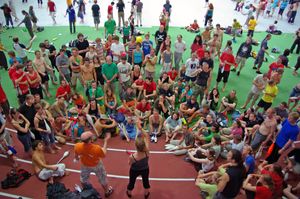 Workshops are given for free by jugglers to everyone
Source : Karlsruhe 2008