Contemporary Juggling
Today, juggling takes many forms. For a long time, jugglers were confined to the circus ring and the cabaret stage. However, they are now also performing new approaches to the art in theaters. Over the past 40 years, jugglers have investigated their props – their shapes, their number, the connection between the objects and their body – as well as investigations into dramaturgy and dance. Contemporary juggling often rejects notions of repetition, symmetry, and running tricks and patterns for multiple cycles. The tricks themselves have changed as well, with new techniques that take juggling across the stage and through physical space in new ways. Here, we introduce a panorama of jugglers – the precursors to day's extraordinary artform along with the contemporary jugglers they have inspired.
Since its founding in 2015, La Maison des Jonglage (La Courneuve, France) is the only venue in the world dedicated to juggling… that's subsidized by the government!
www.maisondesjonglages.fr
The Precursors (before 2000)
AirJazz
AirJazz (United States, 1982 – 1991) – This group of three jugglers successfully mixed dance, comedy, and theater to create a new standard in juggling. This new approach was a breath of fresh air at a time when juggling was seen as a stagnant art.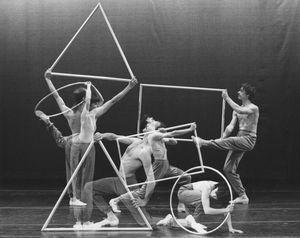 © Photo: Steve Olshansky

Airjazz on the Paul Daniels Show - Clubs <-- Please go to JTV for iOS playback
Michael Moschen
Moschen is a visionary artist whose creations had a resounding impact in show business in the 1990s. Though he is most famous for performing as David Bowie's hands in the movie Labyrinth, Moschen is also the creator of contact juggling with crystal balls. His work with other props – like a giant triangular frame which he bounced balls inside of – made him incredibly popular.
http://www.michaelmoschen.com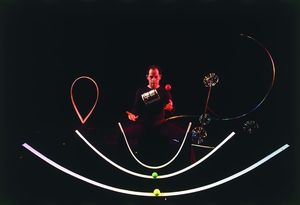 © Photo: Bachrach

Micheal Moschen in the triangle
Jérôme Thomas
Jérôme Thomas (France). Juggling was aknowledged as a real art thanks to Jérôme Thomas. Substancially inspired by dance, his juggling, "le jonglage cubique" uses a grid system for the juggler and his objects to devise his act. His shows created a stir in the juggling- and theater communities, opening theater doors to jugglers. His research, which deals with trajectories, labor, bodies, and musical collaborations, created juggling pieces that never could have existed before. In 2016, Jérôme Thomas and Martin Palisse worked together on a new group creation called HIP 127.
http://www.jerome-thomas.fr/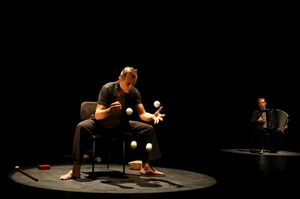 © Photo : Christophe Raynaud de Lage

Elegant Juggler (Jérôme Thomas) <-- Please go to JTV for iOS playback

Gandini Juggling
Founded by Sean Gandini and Kati Yla-Hokkala in 1992, this England-based juggling troupe has enjoyed tremendous success. Gandini Juggling has created more than 30 full-length shows, performing them over 5,000 times on stages all across the world. Their work is made for a general audience, utilizing up to 20 jugglers, emphasizing choreographic links between bodies and objects. Their biggest success, Smashed, is a tribute to Pina Bausch . The Gandinis have instructed a generation of artists by incorporating them in their shows and teaching workshops at festivals worldwide.
www.gandinijuggling.com/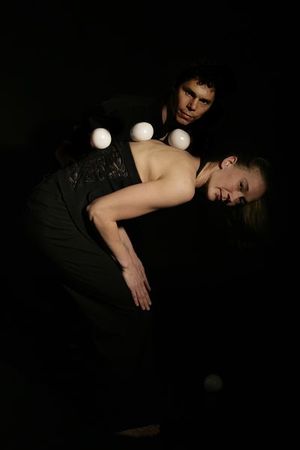 SMASHED a Gandini Juggling Performance from Gandini Juggling on Vimeo.
The Descendants (after 2000)
Stefan Sing
Stefan Sing (Germany) – When juggling becomes a language. Sing is a ball juggler, working both solo and with his partner, dancer Cristiana Casadio. The impressive variety of throws he has mastered is like an alphabet which he combines in new ways, making beautiful combinations that surpass the idea of "tricks."
www.stefansing.com/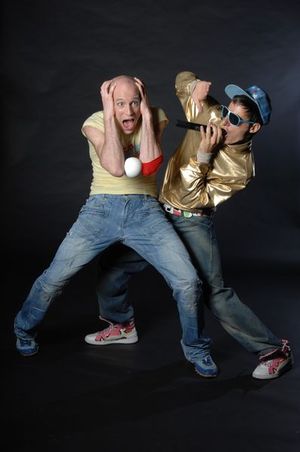 © Photo: Toofan Hashem

Stefan Sing & Cristiana Casadio
Le Collectif Petit Travers
Le Collectif Petit Travers (France) – Over the past 15 years, the Collectif Petit Travers (co-founded by Julien Clement and Nicolas Mathis,) has created seven pieces based on a new form of "collective juggling" using unique rhythm and choreography. Their juggling create shapes, the objects becoming the central character, an interesting feat that pulls the idea of "stage presence" into question. Through great compositions that use everything – from abstraction to slapstick to magic – their juggling language mixes with dance, music, and film.
www.collectifpetittravers.org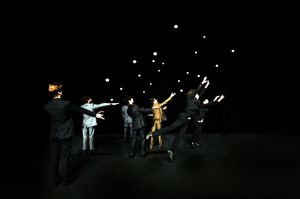 TEASER - NUIT from Collectif Petit Travers on Vimeo.
Feeding The Fish
Feeding the Fish (UK) – Feeding the Fish, founded in 1996, is a company that specializes in illuminated props. They began with a new kind of programmable LED juggling club, and later invented the Pixel Poi in 2006. Pixel Poi are programmable LED strips that are swung around the body, leaving light trails that can be programmed to show images thanks to the phenomena of retinal persistence.
www.feedingthefish.com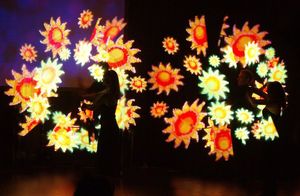 Feeding the Fish
Les Objets Volants
Les Objets Volants (Flying Objects) was founded in 1999. This company creates and performs juggling shows all over the world. Through an eclectic repertoire where juggling is a combination of circus, theater, art, and mathematics, their shows are an investigation of technique and new props. Aware of the tradition they inherit, Les Objets Volants help demonstrate the culture of juggling and show wonderful variations on the existing world of traditional juggling.
www.lesobjetsvolants.com/



Liaison Carbone - Objets Volants
Team RDL
Team RDL (International) – RDL (Renegade Design Lab) imagines and constructs new conceptual juggling equipment. They claim that …the point, circle, and line are represented by the ball, the ring and the club. We are on a quest to find the 4th shape… It's time to start thinking about not only what we do, but what we do it with. It's time to look not only at the moves, but at the shapes the moves are done with. As kids, we practiced until our hands were bleeding. We got older, but we never grew up. We still spend hours each day, alone in a gym, giving objects a tiny breath of life.
RDL is the next logical step in the evolution of juggling.
RDL is juggling for juggling's sake.
RDL is the 4th shape.
Like our props, RDL has more than one dimension. In addition to our founding members in the core designLab, the performers in Team RDL are spreading not just tricks and shapes, but an attitude towards juggling and technical creativity.
www.lesobjetsvolants.com/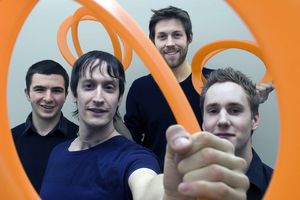 Jay Gilligan, Wes Peden, Erik Aberg, Patrick Elmnert
© Photo: Luke Wilson

Team RDL
Jay Gilligan
Jay Gilligan (US) – Gilligan dedicates his life to questioning every single thinkable topic in juggling. Why do rings have a certain shape and size? What tricks could be possible with a triangle or a square, but not a ring? He was seduced by the Nordic approach to juggling – an approach that rejected the principles of symmetry, cycles, and repetitions held dear in his home country. His work is recognized by jugglers and non-jugglers around the world. Gilligan teaches at the circus school in Stockholm, Sweden, where he has inspired new generations of jugglers for years.
http://www.fourthshape.com/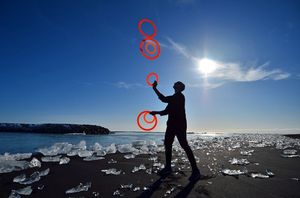 Jay Gilligan

Conference of Jay Gilligan on the evolution of juggling
Wes Peden
Wes Peden (US) – Peden is a remarkable phenomenon in the juggling world. After studying with Jay Gilligan at the school in Stockholm (2007-2010,) he has become a leader in the Nordic style of juggling. He performs an explosive, free, and technically difficult form of the art – among the "Internet generation" of jugglers, he's a real star. Peden creates videos of his investigations, and sells them to support his work. Peden works with Patrik Elmnert, Tony Pezzo, and the Gandinis.
www.wespeden.com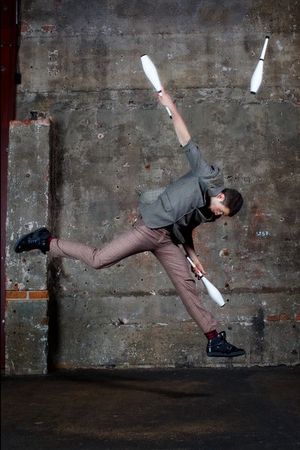 Wes Peden

SALT - Wes Peden's video
Collectif EaEo
Collectif EaEo (Belgium) – EaEo consists of four jugglers – Eric Longequel, Sander de Cuyper, Jordaan De Cuyper, and Bram Dobbelaere. For them, juggling is the ultimate form of expression. Their routines use a vocabulary of fragility, rhythm, graphic art, velocity, impact, performance, suspense, balance, and dropping. Their two shows M^2 (2009) and All the Fun (2015, with Neta Oren) are a non-stop investigation – at first absurd, but the audience is soon caught by the depth of the emotions they express.
www.cieeaeo.com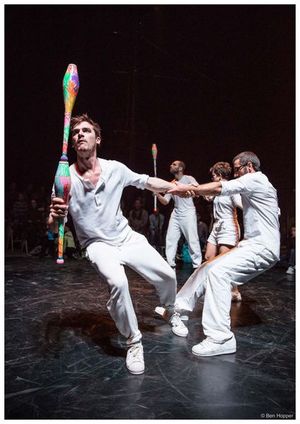 © Photo: Ben Hopper

All The Fun - EaEo
Compagnie De Fracto
Compagnie DeFracto (France) – Founded in 2009 by Guillaume Martinet and Minh Tam Kaplan with the premiere of their show Circuits Fermes. Their ambition is to …create a corporal and juggled language. We have fun with everything that can happen within this activity we enjoy. Juggling is our way to exist in this world. Playing and the willingness to express something puts us on stage – our passion for juggling brings us the tools we need to create our language. The way they put it, their juggling is not a way to express something – it in and of itself something to be expressed. They juggle with one ball – or with lots of balls. Catching them – or not. Juggling alone or with a partner, emphasizing throws and emphasizing drops. To them it's a game – defiance. The creations of the company put forward an explosive image on stage with densely choreographed routines.
www.defracto.com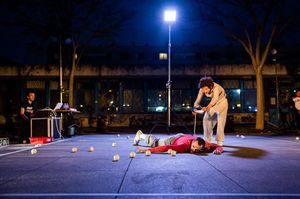 © Photo: Pierre Morel

Extract of Circuits Fermés
Phia Ménard/Jeanne Mordoj
Several artists are on the frontier of juggling and manipulation, creating uncommon shows.
At first, with Jerome Thomas. Then, wit Jean Michel Guy (Jongleur Pas Confondre,) and next alone on stage, (P.P.P.) Phia Menard now performs a number of shows. In "Vortex," she juggles plastic bags that follow random trajectories in a vortex made with fans.
Jeanne Mordoj (L'eloge du poil) juggles with egg yolks and shells in a disturbing piece about femininity and death.
Yohann le Guillerm redefines the notion of feat (Secret) in a baroque world
www.jeannemordoj.com
www.cienonnova.com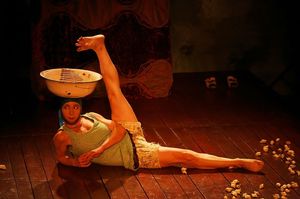 L'éloge du Poil

L'éloge du Poil -Jeanne Mordoj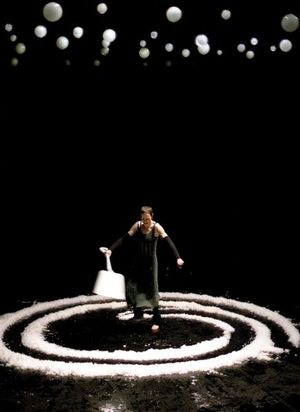 PPP

Interview Phia Ménard - PPP, Vortex