Juggling in Art
Draw me a juggler
At the end of the 19th and into the middle of the 20th century, circus was king and the artists were royalty. Everyone wanted to see the stars of the circus. Painters, sculptors, and writers were particularly fascinated by the art and its artists. As a result, a number of tributes in different artistic mediums were made to the devotion, patience, and grace of circus performers. The Goncourt brothers said that the artists' grace …really made the show, and did not create an external reality that would be shown on stage. They perform – they don't act. Among the painters who loved circus, we find names like Georges Rouault, Dali, Buffet, Chegall, Degas, Seurat, Toulouse-Lautrec, and Picasso. They all made stunning portrayals of the circus world. Writers were similarly inspired – notablely Jules Massenet for his work Juggler of Our Lady, as well as Anatole France, the Goncourt Brothers, Apollinaire, Marme Gautier, Banville, and Wedekind.
Jean-Jacques Grandville
This picture symbolizes the artist – a creator of imaginary worlds who manipulates science, humor, and poetry. This analogy is now a common one, with people joking that they are juggling a family, a job, and hobbies. Planets are drawn here in a "shower" pattern – a conventional (however inaccurate!) representation of the standard juggling pattern in popular media.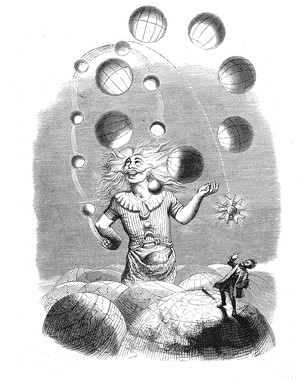 Jean-Jacques Grandville, juggler of planets, Another World 1844, p42,
Source : collection Ronny van de Velde
The Juggler of Our Lady
This medieval legend has been traced back to the 13th century. The legend of The Juggler of Our Lady has survived thanks to Anatole France, who included it in his book L'Etui de Nacre in 1892 and Jules Massenet in his opera of the same title in 1902. It is the most famous literary work whose protagonist is a juggler. The Juggler of Our Lady describes the life of Barnabe – a young man who was frustrated with his nomadic life as a performer. He decides to devote his life to God, joining the brotherhood in the Cistercian Abbey of Clairvaux. Without knowledge of even the most simple prayers, Barnabe offers God acrobatics and dance, performing them in secret in the crypt. He is eventually discovered by a monk and described as a "marvelous miracle" from heaven by an abbot. Our Lady rewards her saintly minstrel by fanning his face with a white towel.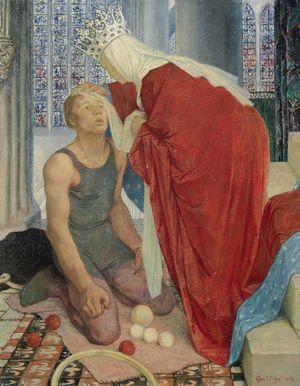 The Juggler of our Lady, Glyn Warren Philbot 1928
Georges Rouault
"Jongleur", etching from the series "Circus of the Shooting Star", George Rouault, 1934 In the etched work of Rouault, besides the etching of 1934 for the "Circus of the Shooting Star", three other jugglers exist :
- A lithograph in colors of 1927 for Paintings of Paris
- A lithograph in the series "Saltimbanques" (1927-1929),
- An aquatint of 1930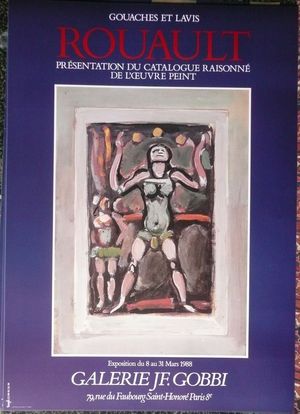 "Jongleur", etching from the series "Circus of the Shooting Star", George Rouault, 1934
Source : fondation Rouault